Mr X asked to take me on a proper date, suggested  that our first meeting was not a date so one was due.
He was only in london or the weekend, i was still trying to not  play cheap and available so i said i could only see him on Sunday for a few hours.
He then said he wanted to get out of the city, i  said "well, we won't have enough time to drive out of the city and back in time for me to pick up my son".( notice, i liked the guy yes, but i wasn't selling myself so cheap that whatever he said went, to some extent i think he respected me for that) He assured me that he'd get me home in time to pick up my son.
I had agreed to meet him earlier than agreed, which i did. he was already waiting for me outside the hotel with an executive town car by his side. He smiled as i approached, "late again" he said in turn i smiled and said " i told you that was my only weakness"
"you must be perfect" he said as the driver got out of the car to open the door for me.
I asked where we were going to and he said Cornwall. i was like hell no!!! this like 5 hours away, i'll be out all day and most part of the night too. that's not what you promised me. "we won't drive, i'l fly us there. only takes about an hour" i am stunned at this point, i don't understand what he's on about.
He didn't even know my real name, i used an alias name on my dating profile, how did he get my last name to even book us tickets to Cornwall? i thought to myself…..
I then asked how he booked tickets without my last name.." oh no, i have an aircraft, no need for that" he says calmly . now i am even more confused…. WTF????
So i am quite for little while too confused to ask any more questions. then i say to him " so how does that work? i don't know anyone with an aircraft.."( my visa had run out 8 years prior and was in process with the home office, so i hadn't travelled for that long)
Anyway, we got to Biggin Hill Airport, i am still stunned, i had no idea this place existed.  My door was opened as soon as we arrived, someone who looked like a flight attendant.
i was even more nervous now, feeling out of place and small but hey… my mother raised no fool, and i have seen the kardashian's , sex and the city so i knew exactly how to carry myself.
i was there and was going to make the best of it!!!!
Mr X came, took my hand an led me into the entrance.  head up shoulders back, my red Topshop slingback clicking to the floor i walked in. now i am aware of people looking, is it our age difference? but i don't care… they the help?
We stopped at a counter, he spoke to a guy there about filling a flight plan, refuelling and parking fee. A few minutes later he led me to an exit and all i could see is private jets! now i am excited. i think he noticed, he said " don't get too excited i flew in on the small one, i like it better than the 930" am thinking what ?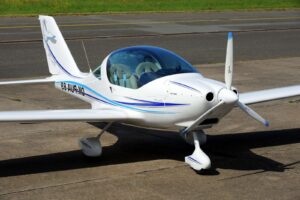 I didn't say anything still quite, he led me to a small two seater aircraft. now i am even more confused," who's flying us? "me" he says .. 'do you know how to?' i asked , he laughed and says "i think so, i mean i flew myself here" ( he lives somewhere in Europe, not a uk resident)"
We took off, i was pinching myself the whole way to Newquay Airport where another car was waiting for us. we drove to some secluded beach near Branscombe that was a home to a restaurant that served the finest piece of steak i'd ever had.
Lunch was lovely, we talked mostly about me and little about himself. Now girls i have met men, worth what i would  assume to be minuet portion of his wealth and act a big jerk. Mr X was ever so humble, i still didn't know what his deal was at this point, but i was sold. i liked hi, yes the flashy lifestyle i saw before me helped, but there was something about him, and i wanted to see where we'd go from here…
Flew back into London. upon arrival we had two cars waiting for us,  one to take me home, and the other him to the hotel. At this point he still didnt  try to kiss me or touch me inappropriately , kisses me on the cheek and asks me to ring him when i got home .
I didnt know what to think or say, but i knew what i wanted. i asked myself what i really wanted, and when i got that i was determined to get that and only that….
i hope you've enjoyed reading this part of my journey, please subscribe so you can get updates of my next post ❤
XOXO.